MSU's award-winning, tenor-bass a cappella group
MSU's co-ed, award-winning a cappella group
MSU's award-winning, only all-treble a cappella group
MSU's Co-ed a cappella Group in the residential college of the arts and humanities
MSU's premiere male a cappella group
MSU's premier South Asian a cappella group
MSU A Cappella's co-ed a cappella collaboration
MSU's award-winning, co-ed a cappella group
The A Cappella Community
Since the first Accapalooza (an annual, two-day concert featuring all eight groups) in 1999, the eight a cappella groups at Michigan State have striven to create stronger connections between each other. With the common bond of creating music and sharing it with the community, the 2016 group leaders formed the MSU A Cappella Community.

Since its conception, the MSU A Cappella Community has brought together hundreds of members who share passions for singing, performing, networking, and creating relationships. With annual community events, support systems, and Spartan pride, the MSU A Cappella Community flourishes via our contributions and support for each other.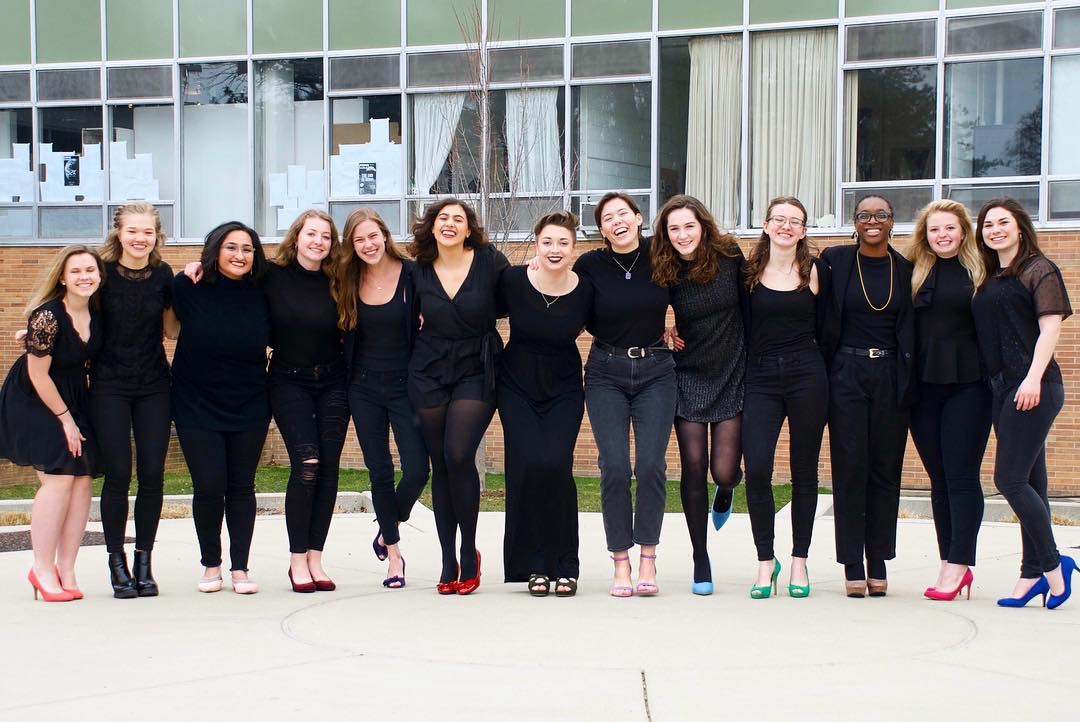 Each fall, every a cappella group on Michigan State's campus holds auditions. Each group has a slightly different audition process. You are welcome to audition for as many groups as you'd like! Just attend auditions and callbacks as described by each group, and let us take care of the behind-the-scenes details. For audition dates and times, visit our calendar below. Visit the group's individual site for specific audition information.
Spring auditions are held at the discretion of the group. Please check their individual websites for more information.
AcaRush
Most groups are a part of a program called AcaRush. If the group participates in AcaRush, their process generally goes as follows:
Come prepared for your audition time with a verse and a chorus of a song that highlights your voice. Some groups require additional materials, so make sure to check with them ahead of time!

Each group will have you fill out a form when you arrive at your audition asking some basic questions and contact information. Fill out the form and wait in the hall until they call you in!

After you perform your cut, the group may have a couple interview questions, along with range testing.

Each group you audition for will call you and let you know if they would like you to join them for a callback. They will individually indicate time, place, and other imperative information.

Callback procedures vary, so ask the group directly for callback-related questions. If you were called back for multiple groups, you should be able to attend all of your callbacks, as we attempt to schedule our times so you can maximize your opportunities!
After callbacks, two things will happen:
If you were called back for more than one group, email msuacappella@gmail.com and rank your top three choices.

All of the groups will meet and we will discuss where each auditionee will be placed. You will receive a call late on the night of the last callback, so please stay awake!
If you have any questions, please contact us below!
Bad HAbit OPB. Ben Platt | MSU Accafellas
"Bad Habit" OPB. Ben Platt
Solo: Aidan Fox
Arrangement: Daniel Dade
Vocal Percussion: Ethan Bresnahan
Choreography: Daniel Dade
Audio Mix & Master: Daniel Dade
Direction, Production, & Editing: Tommaso Randazzo
ICCA 2018 | Capital Green
Capital Green A Cappella performing their 3rd Place set at ICCA Quarterfinals 2018 at Grand Ledge High School 2/24
G-Train OPB. Thirdstory
Scared to be Lonely OPB. Martin Garrix ft. Dua Lipa
Horns OPB. Bryce Fox
The Valley OPB. Betty Who
G-Train (Reprise) OPB. Thirdstory
All Night OPB. Beyoncé| Ladies First
"All Night" OPB: Beyoncé
Arranger: Megan Kramer and Louis Leager
Soloist: Arifa Syeda
VP: Megan Kramer
Performed on November 16th 2018 at Ladies First's fall concert, "Herculadies."
ICCA 2019 | RCAhppella
RCAHppella performing their 2019 ICCA set at their "Pajamappella" concert.
"Because" OPB. The Beatles
"Borderline" OPB. Ariana Grande
"Chainsmoking"/"Slip" OPB. Jacob Banks/Elliot Moss
"In Cold Blood" OPB. alt-J
Cought Syrup OPB. Young the Giant | Spartan Dischords
"Cough Syrup" OPB. Young the Giant
Soloist: Logan Cooper
Spartan Sur | Steel City Sapna 2019
Official front row view of Spartan Sur's performance at Steel City Sapna 2019!
Arr.: Joseph Trate, Abey Martin, Anij Gandhi, Gaurav Gadgeel
Soloists: Sravya Mallajosyula, Shreya Mallajosyula, Abey Martin, Shruti Sivakumar, Anjali Joshi, & Shivaani Annadurai
VP: Joseph Trate
ICCA 2019 Semifinals | State of Fifths
Performed on March 16th, 2019 at Auditorium Theatre (Chicago, IL)
"Cautionary Tales" OPB. Jon Bellion
"Hit & Run" OPB. Francis Novotny
"Version of Me" OPB. Kimbra
"I Am" OPB. State of Fifths
AcaOpen 2018 | The MSU Spartones
The MSU Spartones 2018 AcaOpen set
"Sanctify" OPB. Years and Years | Arr. Daniel Dade
"Home" OPB. AURORA | Arr. Daniel Dade
"Lovely (Feat. Khalid)" OPB. Billie Eilish | Arr. Isaiah Hawkins
"Coalesce"/ "Synesthesia Pt III" OPB. Jack Garrat | Arr. Isaiah Hawkins
Below is a calendar of upcoming events in the MSU A Cappella Community. Updated each semester, this serves as a hub for all upcoming a cappella events near MSU's campus
MSU A Cappella
For general contact for the MSU A Cappella Community, please fill out the form below and our Community Coordinator will get back to you within 5-7 business days.